The Evolution Of Calgary Chinatown
When the Canadian Pacific Railway (CPR) was completed in 1885, British Columbia was hit with a recession, leaving thousands of Chinese labourers unemployed and impoverished. While some had enough money to return to China, others took refuge in British Columbia's few crowded Chinatowns, still others headed east towards Alberta in search of greater job opportunities. Instead of a better life, however, they were greeted with racial rage and mob attacks.
Chinese arrival in Calgary
After the 1880s, hundreds of unemployed Chinese labourers came to Calgary as well as other railway towns seeking more job opportunities and racial acceptance than they had in British Columbia. Most of these pioneers opened laundries as they required little start-up costs and training. By 1888, several Chinese laundries were operating in Calgary and a small Chinatown was emerging. [31]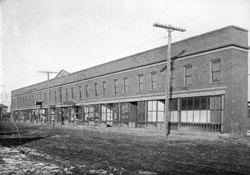 Calgary's First Chinatown
Calgary's first Chinatown was established around 1890 on the eastern fringe of the town centre. By 1900 it consisted of two restaurants, a laundry, two groceries and a rooming house. After 1901 the Chinese population in Calgary began to grow. The first Chinatown could not house these new residents nor could it expand. As a result, a decision was made to relocate Chinatown. [32]
Calgary's Second Chinatown
Calgary's second Chinatown emerged on the other side of the railway tracks, along Tenth Avenue and First Street South West. It consisted of three restaurants, a tailor shop, the Chinese Mission and a string of rooming houses. Interestingly, Chinese businesses in the first Chinatown still continued to operate. Thus, for a time, Calgary had two small Chinatowns separated by the railway tracks. However, less than a decade later, Calgary's second Chinatown was forced to relocate or face extinction.
In 1910, the Canadian Northern Railway announced its proposed route into the city and called for the construction of a hotel depot near the second Chinatown site. As a result the property values in Chinatown soared. Without hesitation, the landlords evicted the Chinese residents and sold their holdings for a profit. This might have been the end of Calgary's second Chinatown had several wealthy Chinese merchants not intervened and bought land for a third Chinatown site.
Soon thereafter, however, a group of angry property owners with land near the chosen area demanded that the proposed Chinatown be relocated to another site. Leading the group, Alderman James Short told city commissioners: "It is for you to take up the question and set the Chinese in one section of the city as you would an isolated hospital" [33]. After much deliberation and input from a designated committee of white and Chinese Calgarians, a resolution was passed stating that "…no action be taken by the council in the matter of segregation but that they pass a by-law regulating sleeping and living space in houses" [34].
Calgary's Third Chinatown
After 1910, Calgary's third and final Chinatown emerged around Centre Street and Second Avenue South East. Between the late 1910s an 1920s, this Chinatown boasted several associations such as the Chinese Public School, The Chinese Mission, the Chinese Nationalist League and several traditional clan organizations. Meanwhile increasing numbers of Chinese laundries and groceries were emerging in the area. By 1921, Calgary's Chinese population had grown to 688, but began to decline following the Chinese Exclusion Act of 1923 and the Great Depression [35] . Following the repeal of the Act in 1947, the number of Chinese in Calgary began rising again, from 973 in 1951 to 2,232 in 1961 [36].
Calgary's Chinatown threatened in 1960s
Although the number of Chinese Calgarians continued to grow, by the 1960s, most chose not to live in Chinatown. Along with its declining numbers, Calgary's Chinatown had become dilapidated over the years making it an easy target for demolition. In 1966, city planners proposed extending the Bow Trail as well as creating a new Centre Street Bridge in the area, both of which would have destroyed Chinatown[37]. Determined to save the community, the recently formed Sien Lok Society of Calgary organized a national conference on "Urban Renewal as it Affects Chinatown" in 1969. This was the first conference of its kind in North America and it prompted a sympathetic press to pay closer attention to the plight of Chinatown for months to come. Due to increased public and media pressure, government officials decided to preserve Calgary's Chinatown as a cultural symbol and even upgrade the area.
Calgary's Chinatown threatened in the 1970s and 1980s
Despite averting demolition in the 1960s, Calgary's Chinatown continued to face threats in the 1970s and 1980s. In 1973, the construction of the federal government complex forced the relocation of 200 Chinatown residents. That year the Bow Trail extension was revived and was only defeated due to the unyielding efforts of the Chinese community.
In the early 1980s, Chinatown's potential caught the attention of several land developers due to its proximity to downtown. These developers wanted to construct extremely high-density buildings that would destroy the unique character of Calgary's Chinatown. Once again a determined group of community members joined forces to save Chinatown. In 1983, a Chinatown development committee was formed that brought together community and corporate interests. A compromise was thus reached allowing developers greater building density and land reclassification, while giving the community free property and funds to help build the long-desired cultural centre[38].
Calgary's Chinatown Today
Calgary's Chinatown has come along way since it was described as a "festering sore" by the Calgary Herald in 1910 [39]. Today it boasts modern shopping centres, several residential towers for seniors and numerous restaurants that attract Chinese and non-Chinese patrons alike. Perhaps its most dynamic focal point is the Calgary Chinese Cultural Centre, which is modeled after the Temple of Heaven in Beijing. Inside the pagoda-shaped building, visitors can take in the intricately detailed ceiling and columns featuring gold-leaf lotus patterns. Aside from being a tourist attraction, this structure is arguably a testimony to the resiliency of Chinese Calgarians and their efforts to protect and revitalize Chinatown.